Contact Us
Call
Hours
Monday: 08:30 AM to 6:00 PM
Tuesday: 08:30 AM to 6:00 PM
Wednesday: 08:30 AM to 6:00 PM
Thursday: 08:30 AM to 6:00 PM
Friday: 08:30 AM to 6:00 PM
Saturday: 9:00 AM to 1:00 PM
Sunday:
Call
Hours
Monday: 8:00 AM to 5:00 PM
Tuesday: 8:00 AM to 5:00 PM
Wednesday: 8:00 AM to 5:00 PM
Thursday: 8:00 AM to 5:00 PM
Friday: 8:00 AM to 5:00 PM
Saturday: 8:00 AM to 12:00 PM
Sunday:
Call
Hours
Monday: 8:00 AM to 5:00 PM
Tuesday: 8:00 AM to 5:00 PM
Wednesday: 8:00 AM to 5:00 PM
Thursday: 8:00 AM to 5:00 PM
Friday: 8:00 AM to 5:00 PM
Saturday: 8:00 AM to 12:00 PM
Sunday:
About Highland Ford Sales
Highland Ford is located in Pictou County nestled squarely in beautiful North Eastern, Nova Scotia. We have a long history in the area, dating back to 1916 and like many local businesses around here we are family owned and operated. Two generations of the Barker family oversee a staff of close to 50 well trained, customer focused employees.
Outstanding service is something that is championed here everyday at Highland Ford, our customers expect only the best because that's what we try to provide in each area of our business. Training through Ford of Canada and many other sources allows the people who work here to be at the top of their game both in product knowledge and customer service. From your first step through our showroom doors you'll encounter members of our friendly and knowledgeable sales team who will help you find a vehicle that suits you perfectly, pressure-free and in your time frame. Giving you a great shopping experience doesn't end their either, dropping by our parts and service departments you'll find that getting your car repaired doesn't have to be a headache inducing experience. We employ some of the most skilled technicians in town, who are excellent at explaining and showing exactly what work is being done. They are also a great source of advice for keeping your Ford or any other make of car running in top condition. Our service department is one of the largest in the area; we repair all makes of cars and even have the capacity to handle heavy duty trucks, so make an appointment or just drop by, we're sure you'll be impressed with how we accommodate you and your needs.
Customer satisfaction wouldn't exist, and great service would just be window dressing without some truly great products to back it all up. We stock the full line of Ford cars and trucks as well as an ever changing selection of quality pre-owned vehicles of all makes. Ford is starting to separate itself from the competition like never before, our line-up is the freshest in the business and quality is at a level second-to-none. We receive new stock on a weekly basis and have recently been certified as a Hybrid dealership. For well built, cutting edge vehicles Ford is the one to beat.
Now that you know a little about us please drop by and let us prove to you that Highland Ford should be the next place on your shopping list, whether you're looking for that brand new car or maybe just a quick oil change, you won't be disappointed.
Highland Ford Sales History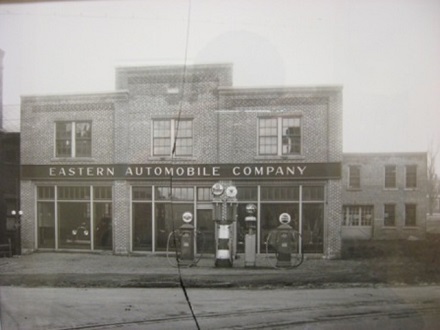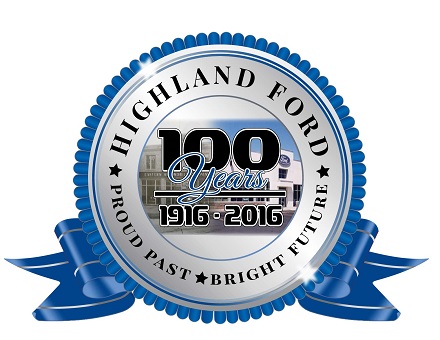 100 YEARS IN PICTOU COUNTY!
Highland Ford has a rich history that dates back almost as far as Ford Motor Company itself. In 1916, an Antigonish dealership by the name of Eastern Automobile Company, opened a garage in New Glasgow selling Ford, Hudson, and Essex vehicles. The first location was in the area where Ceilidh Optical is located today on Provost St.
During the 1920's, Hudson & Essex sales were transferred to another company and Eastern Auto sold strictly Ford vehicles. By 1928, the dealership had grown and the owners determined they needed to move and expand. They built a new garage on Archimedes St. and moved to that location where they sold and serviced Ford vehicles for the next 61 years.
The Eastern Automobile Company changed its name in 1938 to Vee Eight Motors to reflect the V8 engine designed and engineered by Ford. In 1989, the owners constructed a new building on the Westville Road, at a site directly across the street from the Highland Square Mall. (This lot is now occupied by Swiss Chalet and Dollarama) The dealership's title was changed once again in 1999 to our current name, "Highland Ford Sales Limited".
In June of 2000, Highland Ford was purchased by present owners, Eric and Linda Barker. They had a vision for the dealership that focused on providing "Excellence in Sales and Service", and superior customer satisfaction. This soon earned Highland Ford the "Blue Oval Certification" which is Ford Motor Company's award for highest standards in customer satisfaction.
After only three years in the business, Eric and Linda realized they needed to expand to meet their growing customer demands. In 2004, construction was completed on the new modern facility and Highland Ford was moved to its current location at Exit 21, just outside of New Glasgow on the Trans Canada Highway. Today, two generations of the Barker family run the business, and together with their dedicated Highland Ford team of professionals, they continue to grow and expand their services.
Now, 100 YEARS LATER, the one thing that remains constant, is the trust and integrity upon which the company was founded. The tradition that Henry Ford began in 1903 of providing a "fine vehicle at a fair price" lives on at Highland Ford today. We're truly "Proud of our Heritage & Committed to our Future."
Meet Our Staff
Stop by Highland Ford Sales for all your Ford service needs.
Questions? Any of our knowledgeable service and sales people can help. Call 877-887-9147.